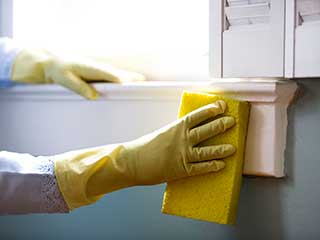 A great way to keep your house in tip-top shape is to have it cleaned thoroughly by professionals every so often. It doesn't take a germophobe to realize how important house cleaning and decontamination standards have become. Well, to help customers from all over, our Venice house cleaning services provide the complete sanitation and decontamination package. We wash floors, scrub tiles, remove carpet stains, steam clean furniture, and decontaminate all manner of surface areas. Whenever you need to have a room cleaned (or several!), let our experts know.
Steam Cleaning Venice Sofas & Couches
Whether it's dust or various residues of dirt and food stains, cleaning furniture, especially the cushioned kind, can take efforts. Living room couches and sofas tend to collect and harbor all manners of dirt and stains over time. Should a major spill occur and leave giant stains on your sofas or couches, cleaning the affected area may prove difficult. Red wine and oily stains have a reputation for being insistent. Not to worry, though. The professional sofa steam cleaning service we provide to Venice residents and nearby areas lets customers get furniture cleaned quickly and cheaply. We offer our services to recliners and beds too, as well as to all of their upholsteries. Speaking of which…
Dirty Upholstery Cleaning
From cushions to mattresses to covers to any other upholstery item for furniture or beds, our professionals can get rid of stains and dirt of any type. Using our non-harmful cleaning products we're able to clean pillows and coverings without causing any damage to the fabrics. Cleaning upholsteries for Venice customers for over a decade has allowed us to develop our unique cleaning methods that ensure your complete satisfaction every time. Our work includes dry cleaning furniture cushions and other upholstery items per your request.
Carpet Decontamination & Stain Removal
So your dog or cat left a mess on your carpet or rug. Don't worry. While the mess can seem terrible right now, with our carpet decontamination and cleaning services we can bring everything from small floor coverings to area rugs to wall-to-wall carpeting back to normal. Our Venice carpet cleaning experts specialize in pet stain removal for floor covers and we use eco-friendly cleaning products to ensure fresh non-harmful smells. We decontaminate the carpet and clean it, getting rid of the stain completely and preventing the spot from becoming a bacteria hotbed.
Complete Room Cleaning
Besides getting rid of carpet stains and furniture food smears, our team also takes care of entire room cleaning. Decontamination involves not just brushing sofas but also tending to floors and countertops, ensuring everything is pristine and cleaned to perfection. Our tile cleaning services offer nearby residents an excellent way to prevent mold in bathrooms and ensure their kitchen tiles sparkle again. We get rid of dirt in grouts and scrub the tiles to remove all layers of grime. Focusing on meticulous cleanliness allows us to clean and decontaminate rooms in their entirety. Get in touch with us anytime to book a house cleaning service anywhere near Venice.