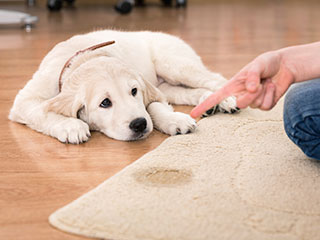 It may be a good idea to consider how pet urine can affect your carpet if you have indoor pets. Since so many families today own a pet, Carpet Cleaning Venice thinks it is a good idea to explain how your pet'surine can affect your carpet. We can tell you upfront that it is generally more effective to address the problem when it first occurs.
Effects of Pet Urine
The pet's urine will mix with the fibers and dyes in the carpet and cause it to turn yellow. This is something that you may notice right away. Sometimes, you may not notice it right away. Sometimes, however, it may not be noticeable for quite some time after the incident has occurred. This can result in more permanent discoloration of your carpet. It could also ruin the fibers of your carpet. As the urine decomposes, you will begin to notice a foul smell. The urine salts must be dealt with in order to eliminate the odor. Often, the changes are not noticeable until the carpet has been cleaned.
Why You Should Get Professional Help
When you do not seek professional help, you may not be able to remove all of the urine. If this occurs, the smell will get worse over time. This is because the pet's urine has ammonia which produces the unpleasant smell. Bacteria are present in the urine, which can be harmful to your health. The changes in the carpets fibers may not be recognized until the carpet has been professionally cleaned. Once noticed, it may be necessary to tint or remove the part that has been affected. Sometimes, it may even be necessary to remove the subflooring. This is not something that the average person would know how to handle. Getting professional help means that you can resolve the problem once and for all. When you do not receive the help you need, it could result in you having to replace or dispose your carpet. Avoid this by addressing the issue as quickly as possible.